T2M › Bluetooth › BLE 5.3 / 15.4 (0.5mm2) RF PHY IP
BLE 5.3 / 15.4 (0.5mm2) RF PHY IP
Description and Features
Bluetooth Low Energy v5.3 and IEEE 802.15.4 (ZigBee 3) compliant RF Transceiver + Modem IP silicon proven in 55 & 40nm ULP, FLASH process nodes. The radio supports 2Mbps, Long Range and is compliant with Bluetooth® Low Energy Core Configuration (Bluetooth Smart) v5.3. The Rx and Tx currents are highly optimized to be ~5mA from 0.9V supply.
The IP includes the modem and integrates all the calibrations required for the radio operation in a SOC. The radio analog hard IP including the RF pad-ring occupies less than 0.5sqmm area. The radio provides best in class RX and TX metrics at highly optimized area and current. Optional integrated RF matching network enabling direct connection to the antenna with minimal loss in performance.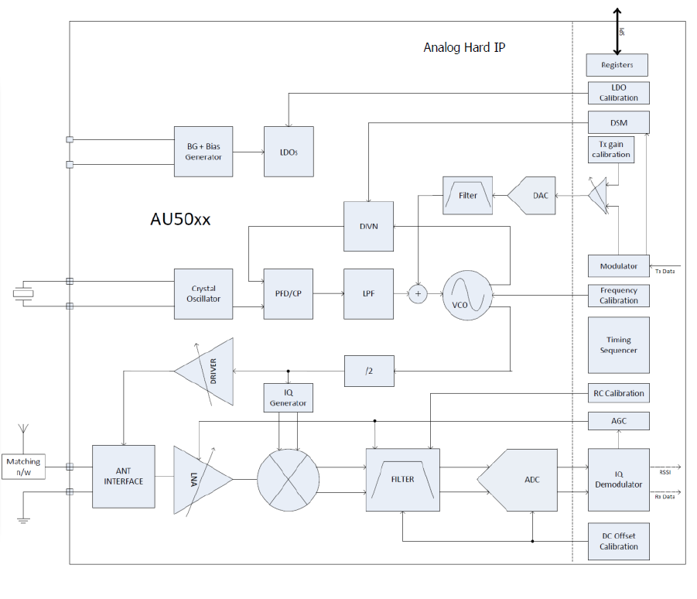 Features
BLE 5.3 Compliant with 2Mbps data rate and Long Range support; IEEE 802.15.4 Compliant

Radio analog hard IP area < 0.5mm2. BLE & digital soft IP is 150K gates.

Excellent RX Sensitivity at -97 dBm (Uncoded PHY, 1Mbps), -93.5 dBm (2Mbps)

Ultra-Low Power Operation (analog hard IP + modem)

RX (@ sensitivity, 1Mbps): 5.8mA @0.9V (2.35mA @3V with 90% DCDC Efficiency)

TX (@ 0dBm): 6.3mA @0.9V (2.57mA @3V with 90% DCDC Efficiency)

Integrated with ESD protected I/O pads

Technology Node: TSMC 40/55nm

Package support for both QFN and CSP

Temperature Range of -40C to 105C
Deliverables
GDSII or source code

Digital Source Code RTL

Complete design transfer
Benefits
Total Analog RF area is just 0.5mm2 area including the pad rings.