T2M › Ethernet › GbE (10/100/1000Base-T) PHY IP
GbE (10/100/1000Base-T) PHY IP
Description and Features
It is a highly integrated single chip for Giga 10/100/1000 Ethernet application. It is IEEE 802.3u/ab compliant single-port Giga Ethernet physical layer transceiver with low power consumption. It supports 10BASE-Te, 100BASE-TX, 1000BASE-T operation. GPHY connects the Media Access Control Layer (MAC) by GMII(Giga Media Independent Interface) or RGMII. it could support Un-shielded Twisted Pair Category 5 Cable(UTP5) for 100BASE-TX Fast Ethernet and 1000BASE-T Giga Ethernet, or UTP5/UTP3 cable for 10BASE-Te Ethernet. It contains the entire physical layer function of 100BASE-TX defined by IEEE802.3u and 1000BASE-T defined by IEEE 802.3ab, including the Physical Coding Sub-layer (PCS), Physical Medium Attachment Layer (PMA), Twisted Pair Physical medium Dependent Sub-layer (TP-PMD, 100BASE-TX only). The GPHY also provides a robust auto-negotiation function, automatic media speed/duplex and protocol selection. GPHY also supports Auto MDI/MDIX function to simplify the network installation.
It also has a combined versatile MAC interface that is capable of interfacing with several controller interfaces. The 1000BASE-T transceiver includes PCS (Physical Coding Sublayer) Transmitter, PMA (Physical Medium Attachment) Transmitter, PMA Receiver and PCS Receiver.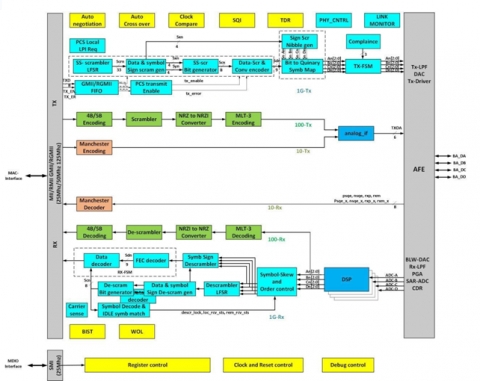 Features
Fully compliant with IEEE 802.3 10BASE-T, 100BASE-TX and 1000BASE-T specifications. Supports AVB, EtherCAT® (link-loss reaction time < 15us, fixed pre-amble width), EtherNet/IP, Ethernet POWERLINK, ProfiNET®, SERCOSIII, and Modbus TCP/IP in 10/100 modes.
Optimized per port area and power make the IP well suited to integration. The design includes the I/O pads necessary to implement the interface.
Multiple supply and process configurations are available, only SVT and TOX devices.
DSP-based adaptive equalizer with baseline wander correction.
Auto-MDIX.
Low and deterministic latency.
A fully flexible interface – MII, GMII, RGMII.
Clock timing can be adjusted to eliminate board trace delays required by the RGMII specification.
WOL, Energy detect mode, Sleep mode, Power back-off modes.
Available in Single-Port and Dual-Port configurations.
Hardware-based cable diagnostics.
Multiple temperature ranges – Commercial 0ºC to 70ºC – Industrial –40ºC to 85ºC – Extended –40ºC to 105ºC (OPTIONAL).
EMC/EMI optimized.
Leading-edge jitter tolerance.
Built-in-self-test including pattern generator/checkers and built in error counters.
Patent-pending self-monitoring techniques, including signal quality monitoring.
Forced link-up and fast link-down modes.
Extended cable reach (as an option, up to 130m).
Polarity correction (10Base-T mode).
SMI pre-amble suppression and next page support.
Pin-strapping options.
Applications
Gateways and routers.
Industrial & Factory Automaton and Industrial PC's.
PLC – (Programmable Logic Controller) I/O module.
Motor/motion control.
LANs (Local Area Networks).
Sensor and monitoring interfaces.
Security and surveillance.
Building automation.
Transportation systems.
Deliverables