Description and Features
A complete RF companion chip for adding Bluetooth Low Energy v5.x (2.4GHz), Sub-1GHz (150-960MHz), 802.15.4(Zigbee), capability to any embedded CPU SoC via a standard SPI interface.
Integrated BLE Link Layer and FSK, GFSK, OOK Modem enables data rates of 2Mbps for Bluetooth and 50Kbps for Sub-1GHz. Connection range from ~100 meters with Bluetooth to ~50Km over Sub-1GHz ISM band.
Standard SPI interface plus chip select & packet sync pins for interfacing a MCU or SOC and accessing an integrated AES engine for data encryption/decryption. No external RAM, ROM or Flash is not required.
Low cost & simple upgrade to any embedded MCU system.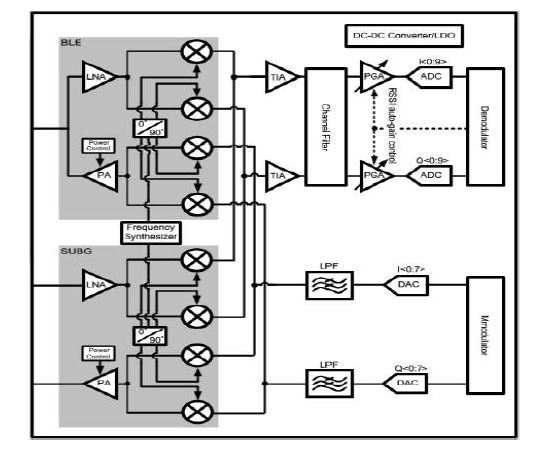 Features
RF Front end SoC with integrated modem:
2.4GHz - Bluetooth Low Energy v5.x with Link Layer Integrated
15.4 / ZigBee & 15.4G
150-960MHz - Sub-1GHz ISM
FSK, GFSK, OOK Modulation
GFSK and O-QPSK Modulation
Proprietary Software Defined Radio links
RF Tx power: +5dBm Bluetooth; +16dBm Sub-1GHz
Data Rate Supported: 2Mbps & 1Mbps (Bluetooth); 50Kbps (Sub-1GHz)
Bluetooth® 5 Low Energy Certified
BQB Certification as a PHY component
16MHz or 32MHz crystal
16MHz clock output for MCU or SOC
Integrated DC/DC and LDO regulator
SPI interface (Tx/Rx) to MCU or SOC
Protocol Stack & Profiles running on companion CPU
Compatible with 3rd party Stacks
Very Low Power Consumption
Standby & Deep Sleep functions
PMU for power-saving states