Description and Features
Audio Weaver® an Audio SW Development Platform, an Audio drag and drop EDA suite if you like, to streamline the audio algorithm SW development process by you and your customers on your chipsets. It is a hardware (CPU/DSP) independent platform designed for audio algorithm development. It is an innovative graphical design environment for developing optimized embedded audio software. Development teams can create applications that realize their desired sound quality up to 10X faster than traditional development approaches by allowing developers to work in parallel at different stages of the development cycle and by re-using pre-built, highly optimized audio processing modules. It is a cross-platform audio-processing engine featuring a library of over 400 audio building blocks optimized for embedded Arm, Broadcom, Qualcomm, Texas Instruments, Intel, MediaTek, NXP, DSP Group, and other processors.
Audio Weaver® embodies years of audio product development experience and is used by several leading audio technology companies today. It enables algorithm and product developers to more quickly and efficiently develop products and technology. It is a complete tool, remaining suitable for the entire lifecycle of an algorithm, from basic research, to optimisation and productization, integration into end products, and ongoing legacy support.
There are over 400 SW plug ins for the platform including TalkTo™ which is a High performance Audio front end for far-field voice-controlled products an Adaptive Interference Canceller (AIC) that learns and eliminates external noise sources guaranteeing reliable voice control even at significant background noise levels, for example used in GoPro Hero to eliminate wind noise.
AWE Designer™ Configuration tools for AWE Core:
Realtime Drag 'n Drop GUI Interface for design, control, product testing and debug, Integrate or Create advanced audio features, Open APIs for external tools and scripting, Open Platform for 3rd Party Modules, Client and Customer developed, Includes "Native Target" with AWE Core for Windows
AWE Core™ All-in-One Audio Processing Engine:
Complete Audio Processing SW Engine resident on CPU/DSPCore, Real Time Reconfigurable Audio-Pipeline, 400+ Audio Building-blocks, Processor & OSAgnostic, Open APIs & Extensible with 3rd partybuilding-blocks
Audio Weaver® Engine (AWE) Core Processing Engine : Development Libraries, Production Libraries
Audio Weaver® Engine (AWE) Designer: Standard Edition, Pro Edition (req. Matlab)
Automotive Tuning Suite, Automotive Measuring Suite, RTASC Real Time Audio System Check. Audio Playback IP: Volume Management, Bass Enhancement
It passes Google Assistant, Alexa Mobile Accessory (AMA) and Amazon Alexa Voice Service (AVS) 2.1 Premium Test . Reports are available under NDA.
Audio Weaver® is currently deployed across more than 50 million devices worldwide and is central to the audio experiences of automotive innovators like Porsche - used it to create the Taycan signature sound, Tesla, Bugatti, and Volkswagen. In addition, Audio Weaver is embedded in leading automotive audio providers Panasonic, Sony, Alpine, and more.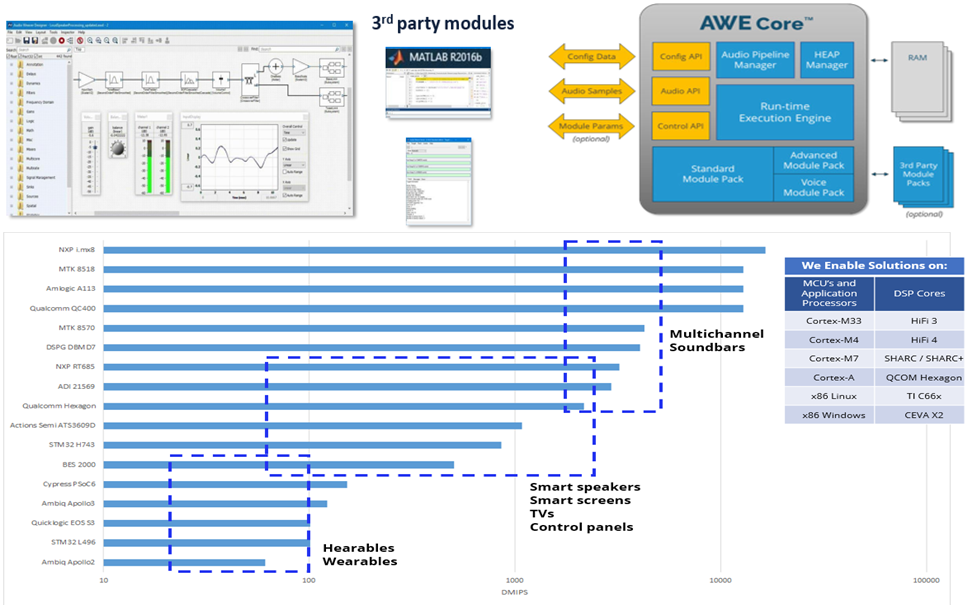 Features
Integrate or Create advanced audio features
Realtime Interface for design and debug
Open APIs for external tools and scripting
Includes Native Target with AWE Core for Windows
AWE Core All-in-one Audio Processing Engine
Reconfigurable Audio-Pipeline400+ Audio Building-blocks
Processor & OS Agnostic
Open APIs & Extensible with 3rd party building-blocks
Applications:
Smart Speaker, Ear Buds, Hearing Aid
Cell Phone, TV
Automotive Infotainment
Benefits:
Faster time to market
Enables customer to easily add their own value and differentiate product features
Ability to integrate multiple 3rd party IP's
Easier debugging and tuning
Enables IC partners to create value added solutions that can be contributed to an IP store
Common platform that all members of the customer support chain can use for debugging, tuning