T2M › Verification IPs › MIPI A-PHY VIP
MIPI A-PHY VIP
Description and Features
Verifying the MIPI A-PHY is quick and easy with MIPI A-PHY. The Verification IP for MIPI APHY offers the following functionalities and is completely compatible with MIPI A-PHY 1.0 and 1.1 Specification. SystemVerilog, VMM, RVM, AVM, OVM, UVM, Verilog, SystemC, VERA, Specman E, and non-standard verification environments all natively support the MIPI A-PHY Verification IP. The optional Smart Visual Protocol Debugger, a GUI-based debugger to speed up debugging, is also included with the MIPI A-PHY Verification IP.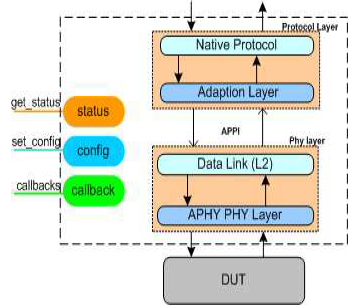 Features
Supports MIPI A-PHY specification 1.0 and 1.1.
Supports single lane and dual lane, point-to-point and serial communication technology.
MIPI A-PHY provides a main unidirectional data stream and a bi-directional low- throughput command and control data stream, and can optionally also deliver the required power supply to peripheral units (i.e., the sensors and/or displays atthe edge of the network) directly via the A-PHY dataline.
The model has a rich set of configuration parameters to control MIPI A-PHY functionality.
Support multiple speed gears ranging from 2Gbps up to 32 Gbps.
Support 5 discrete Downlink Gears: G1, G2, G3, G4, and G5 and Uplink shall be 200Mbps at U1 and U2 gears
Support two types of profiles : • Profile 1 (P1-NRZ 8B/10B) • Profile 2 (P2 -PAM 4, 8 ,16)
Support clock recovery, Sink Transmitter shall use the recovered Source clock to generate the proper Sink transmit clock, to reach the proper port rate.
Support Re transmission request / ACK types.
Support Scrambler as per specs.
Support two types of Startup Procedure: • Mission Mode, Unidirectional startup
Support Wake-Up protocol and below Mode of operation :Non active Mode, Active Mode
Implements below PHY layer architecture : • MIPI A-PHY P1 G1/G2 Architecture • RTS By-Pass, 8B/10B PCS, PMD • MIPI A-PHY P2 G1/G2 Architecture • RTS for Uplink and Downlink • 8B/10B PCS,PMD • MIPI A-PHY G3-G5 Architecture • RTS for Uplink and Downlink, 8B/10B PCS for Uplink • PAM 4, 8 ,16 PCS for Downlink, PMD
Support below Data Link feature:
Link service, Local function,Multi-port function
Network function
Monitor, Detects and notifies the test bench of significant events such as transactions, warnings, timing and protocol violations.
Callbacks in transmitter and receiver for various events.
MIPI A-PHY Verification IP comes with complete test suite to test every feature of MIPI A-PHY.
Deliverables
Complete regression suite containing all the MIPI APHY testcases.
Examples showing how to connect various components, and usage of Tx,Rx and Monitor.
Detailed documentation of all class, task and function's used in verification env.
Documentation also contains User's Guide and Release notes