Description and Features
Audio Weaver® is the audio platform which is Rich for the IoT ecosystem, enabling leading customers to deliver differentiated audio playback and voice features including TalkTo™ quickly in their Smart home products. Our ability to help customers realize high quality innovative DSP audio is our core strength. Audio Weaver® is the embedded audio design tool and delivery platform of choice.
TalkTo™ High performance audio frond end: Suite of Machine Learning and Advanced Microphone Algorithms delivers unrivaled barge-in performance, Adaptive Interference Canceller™ (AIC) learns and eliminates external noise sources, Highly optimized Acoustic Echo Canceler (AEC) for up to 7.1 output channels, Beam-forming for linear or circular arrays of 2 to 8 microphones. Its has been qualified by Google Assistant, Amazon for Alexa built-in devices using Alexa Voice Service (AVS)
Now we can make easily build Alexa built-in devices that will perform well even in noisy situations -- from a crowded party to even rock concert.
Smart Speaker: Accommodates arrays from two to eight mics, and includes Adaptive Interference Cancellation™ (AIC) for industry-leading wake word recognition.
Multichannel Soundbar: TalkTo™ for soundbar includes proprietary N-channel Acoustic Echo Canceller (AEC) and Adaptive Interference Cancellation™ (AIC) to deliver reliable wake-word recognition, even at cinematic volume levels.
TV & Smart Screen: Delivers reliable far-field voice recognition even with linear two or four-mic arrays.
Set Top Box: Uses a circular array, and easily recognizes the wake word even in the presence of loud audio from a nearby TV or soundbar.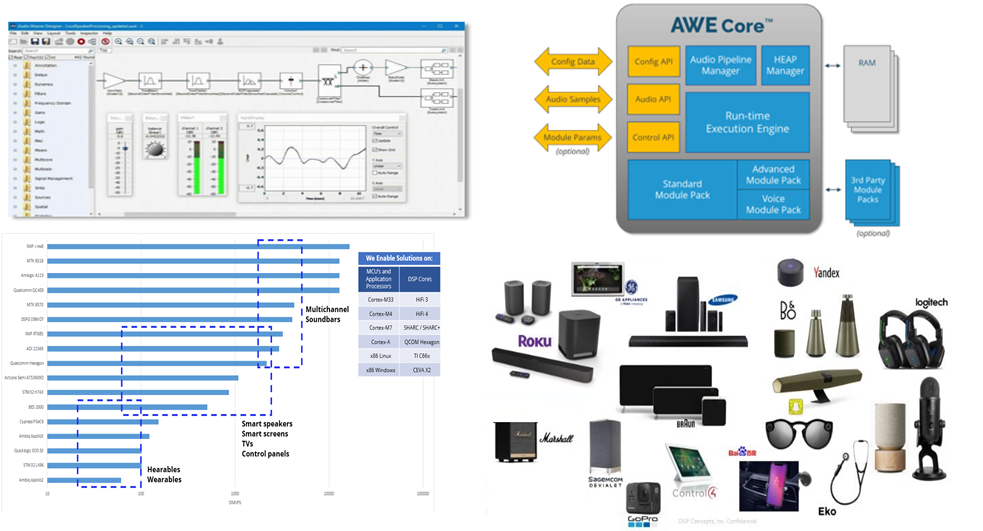 Features
Playback Processing : High demand Audio Features available through Audio Weaver®
Small-Speaker Enhancement
Perceptual Bass Enhancement Dynamic EQ Limiting / Clipping