T2M › PCI Express › CXP Device IP
CXP Device IP
Description and Features
CXP Device core is compliant with standard CXP specification as 1.1/1.1.1/2.0. Through its compatibility, it provides a simple interface to a wide range of low-cost devices. CXP Device IP is proven in FPGA environment. The host interface of the CXP can be simple interface or can be AHB, AHB-Lite, APB, AXI, AXI-Lite, Tilelink, OCP, VCI, Avalon, PLB, Wishbone or custom buses.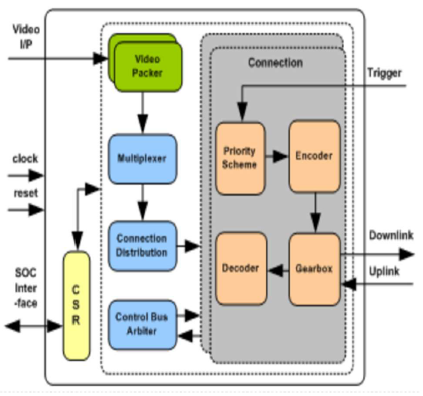 Features
Compliant with CXP Specification 1.1/1.1.1/2.0.
Full CXP Device functionality.
Supports upto 4 connections.
Supports following Channels: Stream Channel, I/O Channel, Control Channel
Supports 8,10,12,14,16 bit depth.
Supports following bit rates for high speed down connection: 1.25 Gbps, 2.50 Gbps, 3.125 Gbps, 5.00 Gbps, 6.25 Gbps, 10 Gbps, 12.5 Gbps
Supports following bit rates for low speed up connection: 20.83 Mbps, 41.66 Mbps
Supports 8B/10B Encoding and 10B/8B Decoding.
Supports packing of all the video formats supported by the CXP v2.0 specification.
Supports the following color formats. • Raw • Mono • Planar_1 to Planar_15 • BayerGR, BayerRG, BayerGB, BayerBG • RGB • RGBA • YUV_411, YUV_422, YUV_444 • YCbCr_601_411, YCbCr_601_422, YCbCr_601_444 • YCbCr_709_411, YCbCr_709_422, YCbCr_709_444
Supports Bootstrap register set as per CXP v2.0 specification.
Supports packet multiplexing from different streams.
Supports connection test facilities to test the quality of the connection.
Supports Unified Time Stamping as per CXP version 2.0 specification.
Supports link Sharing as per CXP version 2.0 specification.
Supports backward compatibility for version 1.1.1 specification. • High speed up connection with maximum bit rate of 6.25 Gbps • Low speed up connection with 20.83 Mbps bit rate • HsUpConnection bootstrap register is used to indicate the HS up connection support.
Deliverables
The CXP Device interface is available in Source and netlist products.
The Source product is delivered in Verilog. If needed VHDL, SystemC code can also be provided.
Easy to use Verilog Test Environment with Verilog Testcases
Lint, CDC, Synthesis, Simulation Scripts with waiver files
IP-XACT RDL generated address map
Firmware code and Linux driver package
Documentation contains User's Guide and Release notes.

Request Datasheet