T2M › Cellular › NB-IoT Cat-M UE Low power RF Transceiver IP
NB-IoT Cat-M UE Low power RF Transceiver IP
Description and Features
This is an ultra-low-power Cat-M/NB1 UE RF Transceiver IP solution optimized for IoT and M2M applications. The RF IP supports Release-15 frequency bands with Integrated Power Amp. The NB-IoT RF IP supports wideband for the Receiver and the Transmitter path where the band limitation can be set by external components.
The receive path (RX) has extremely high dynamic range and is implemented to support both direct-conversion and low-IF architectures. A direct conversion TX generates low EVM signals. The IP family has both options of integrated PA, and supporting external PA. An integrated Frac-N frequency synthesizers and LO-chains generate the required low phase-noise LO signals for TX and RX mixers. Optional fully integrated power management can be integrated to minimize the module eBOM cost.
The NB-IoT RF IP in combination with other wireless technologies like Bluetooth and GNSS enables various IoT based application from smart home to industrial automation, to battery powered applications like wearables etc. due to its lower power consumption.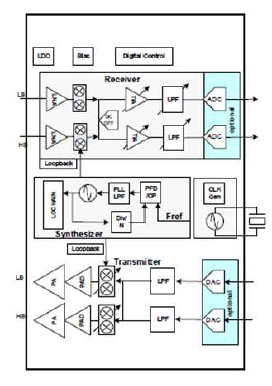 Features
Frequency Range: 100MHz - 2.6GHz
Bandwidth Range: 180KHz ~ 20MHz
Silicon proven in TSMC 40ULP
Supports both HD-FDD/TDD modes.
Low phase-noise Frac-N synthesizer
Fast PLL for frequency hopping
Modulation Support: OFDM, QPSK, QAM, OQPSK
Integrated DPD to improve Tx power efficiency and linearity
Integrated LDOs and DC-DC
Integrated PA
Support for ADC/DAC: 10/12bit SAR 80/160 Msps
Supports Low RX power of 10mW (approx.)
Option for PMU.
Supports Power Modes that can be configured as per User application
Operating Temperature: -40?C – 85?C