T2M › MIPI › MIPI STP Master Controller IP
MIPI STP Master Controller IP
Description and Features
MIPI STP MASTER interface provides full support for the PTI which is a generic high performance parallel interface, support for the two-wire MIPI STP MASTER synchronous serial interface, compatible with MIPI STP specification. Through its MIPI STP MASTER compatibility, it provides a simple interface to a wide range of low-cost devices. MIPI STP MASTER IIP is proven in FPGA environment. It can also support a variety of host bus interfaces for easy adoption into any design architecture - AHB, AHB-Lite, APB, AXI, AXILite, Tilelink, OCP, VCI, Avalon, PLB, Wishbone or custom buses.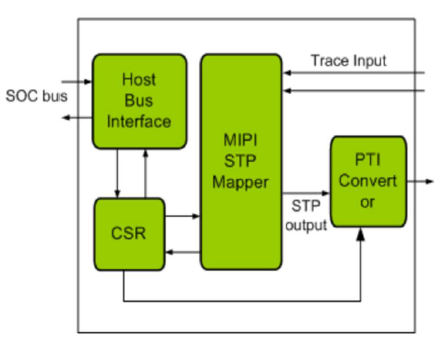 Features
Compliant with MIPI STP Specification version 2.0 and 2.2.
Supports STP interface.
Supports ATB interface.
Supports Custom interface.
Supports a trace stream comprised of 4-bit frames.
Supports up to 16 independent data Channels per Master.
Supports basic trace data messages that can convey 4, 8, 16, 32, or 64-bit wide data.
Supports Time-stamped data packets using one of several time stamp formats including: • Gray code • Natural binary • Natural binary delta • Export buffer depth (legacy STPv1 timestamp that requires DTC support).
Supports Data packet markers to indicate packet usage by higher-level protocols.
Supports Flag packets for marking points of interest (for higher-level protocols) in the stream.
Supports Packets for aligning time stamps from different clock domains.
Supports Packets for indicating to the DTC the position of a trigger event, which is typically used to control actions in the DTC.
Supports Packets for cross-synchronization events across multiple STP sources.
Supports for user-defined data packets.
Facilities for synchronizing the trace stream on bit and message boundaries.
Fully synthesizable.
Static synchronous design.
Positive edge clocking and no internal tri-states.
Scan test ready.
Simple interface allows easy connection to microprocessor/microcontroller devices.
Deliverables
The MIPI STP Master interface is available in Source and netlist products.
The Source product is delivered in plain text Verilog. If needed VHDL, SystemC code can also be provided.
Easy to use Verilog Test Environment with Verilog Testcases
Lint, CDC, Synthesis, Simulation Scripts with waiver files
IP-XACT RDL generated address map
Firmware code and Linux driver package
Documentation contains User's Guide and Release notes.

Request Datasheet