T2M › Memory › NVM Express Controller IP
NVM Express Controller IP
Description and Features
The NVM Express (NVMe) controller is compliant with NVMe 1.4 Base Specification. Most of NVMe feature supported to achieve well compatibility, SRIOV is implemented with compact design to provide highly flexibility. Friendly FW interface let NVMe Controller IP can easily achieve host command with high efficiency.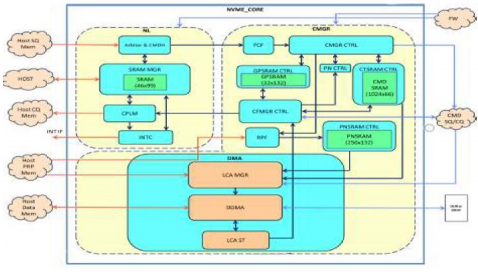 Features
Compliant with NVMe Specification v1.4
Support SR-IOV up to 16 VFs
Support SQ/CQ/IV up to 132
Support INTR, MSI and MSI-X interrupt mechanisms
Support outstanding command number up to 512
Support multi-namespace up to 32
Support write stream number up to 7
Support LBA format 512B and 4KB
Support IO Queue Depth up to 64K
Support SRAM ECC error protection
Support Data path CRC error detection
Support Read out of order
Support arbitration mechanisms with RR and WRR
Support Boot Partition
Support Interrupt Coalescing
Support Host Memory Buffer (Engine is not inside NVMe Controller)
Deliverables
User Manual
Behavior model, and protected RTL codes
Synopsys library (LIB)
Test patterns and Test Documentation
Benefits
Fully Compliant IP Core
Production Proven in multiple chip sets.