T2M › USB › USB 3.0 PHY IP in 7FF
USB 3.0 PHY IP in 7FF
Description and Features
A Universal Serial Bus (USB) transceiver is available for auxiliary devices. The PHY meets with the specifications of USB 3.0 (USB SuperSpeed), USB 2.0 PIPE, and UTMI. Without sacrificing speed or data throughput, the USB3.0 PHY IP transceiver is made to use little power and occupy little space on the chip. To offer complete support for high-performance designs, the USB3.0 PHY IP comprises a full on-chip physical transceiver solution with Electrostatic Discharge (ESD) protection, a built-in self-test module with inbuilt jitter injection, and a dynamic equalization circuit. The USB3 MAC layer supports several IP sources across the common PHY interface (PIPE). Utilizing constant power, inbuilt Jitter Injection Output, built-in Self-Test, and authorized changing of analogue circuit characteristics, internal test monitoring and jitter is minimized.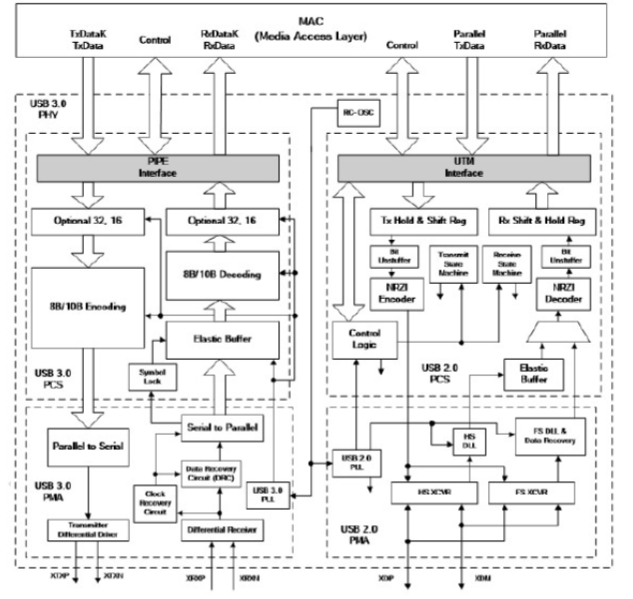 Features
Compliant with Universal Serial Bus 3.0 Specification
Supports 2.5GT/s and 5.0GT/s serial data transmission rate
Compliant with PIPE 3.0
Compliant with Universal Serial Bus 2.0 Specification
High-speed data transfer rate: 480 Mbps
Compliant with legacy USB 1.1
Full-speed data transfer rate: 12 Mbps
Compliant with UTMI 1.05 Specification
Operating Voltage: 1.1V and 3.3V
Support low jitter automatically calibrated oscillator for crystal-less mode
Support 125/250 MHz with 32/16-bit mode for USB 3.0
Support the Build-In-Self-Test (BIST) mode for low-cost TEG/ATE testing
Silicon Proven in TSMC 7FF.
Deliverables
GDSII & layer map
Place-Route views (.LEF)
Liberty library (.lib)
Verilog behavior model
Netlist & SDF timing
Layout guidelines, application notes
LVS/DRC verification reports