T2M › DisplayPort › V-by-One Rx IP in 40LL
V-by-One Rx IP in 40LL
Description and Features
The V-by-One HS technology aims to transmit video signals at a high data rate using internal equipment connections. The requirements to create a transmitter and receiver are defined by the V-by-One HS Standard. This supports up to 4Gbps/lane and has available 8-lane and 16-lane PHY for Tx and Rx.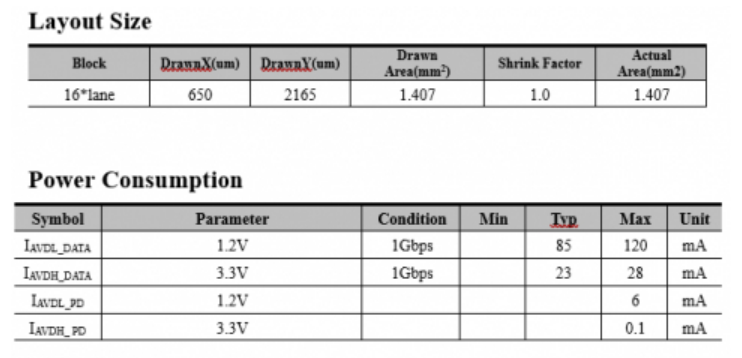 Features
Wide-range data rate, up to 1Gbps, and the associated clock is DDR clock (1/2 of the data rate, up to 500MHz)

16 channels total 128 bits of parallel data, each channel has a bit width of 8 bits

DC coupling mode

Multi-channel shared offset

Built-in terminal impedance circuit, without external components

Support AXI stream bus protocol and data transceiver

Built-in self-test mechanism, which can independently complete feature and mass production testing

Support link training mode

Support Flip-chip package form

ESD: HBM/MM/CDM/Latch-Up 2000V /200V/ 500V/100mA.

Silicon Proven in SMIC 40LL.
Deliverables
Datasheet

Integration guideline

GDSII or Phantom

GDSII Layer map table

CDL netlist for LVS

LEF Verilog behavior model

Liberty timing model DRC/LVS/ERC results