T2M › Verification IPs › SDIO UHS-II VIP
SDIO UHS-II VIP
Description and Features
A cutting-edge method for confirming SDIO UHS-II implementations is available on the market: SDIO UHS II Verification IP. All command kinds can be generated using it. A robust protocol checker that complies fully with UHS-II Adddendum version 2.00 is the SDIO UHS-II monitor. All protocol tests may be run on the SDIO UHS-II VIP as a test bench, and it also makes it simple to create a large number of patterns and a set of predetermined patterns to stress the DUT. System Verilog, VMM, RVM, AVM, OVM, UVM, Verilog, System C, VERA, Specman E, and non-standard verification environments all natively support SDIO UHS II Verification IP. To expedite debugging, the SDIO UHS II Verification IP offers an optional Smart Visual Protocol Debugger, a GUI-based debugger.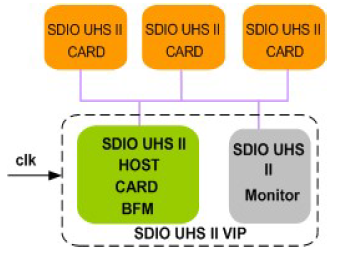 Features
MIPI DSI-2 Tx and Rx functionality.
Supports SD specification UHS-II Adddendum version 2.00 compliant.
Supports Part E1 SDIO specification version 4.1.
Supports SD specification physical layer version 4.0, 4.20, 5.0, 5.1, 6.0, 6.1, 7.0, 7.1, 8.0
Single byte, single block, multiple block (finite and infinite) transfers and MMC stream transfer operations.
Supports Bus-accurate timing.
Supports fast mode and low power mode.
Supports Function extension commands.
Supports test modes.
Supports hibernate mode., Supports enumeration.
Supports power saving modes.
Supports 8b10b encoding/decoding.
Supports following additional lanes features • Full Duplex with 2 Downstream and 1 Upstream Lanes mode • Full Duplex with 1 Downstream and 2 Upstream Lanes mode • Full Duplex with 2 Downstream and 2 Upstream Lanes mode
Supports card ownership protection.
Supports discard and Full user area logical erase.
Supports cache operation.
Supports command queuing.
Supports Card maintenance
Supports Low voltage 1.8V cards.
Detects and reports the following errors. • Out of range error, Address misalign error • CRC error, Switch error, Illegal command error • Block length error, Lock-unlock failed error • WP violation error,CSD/CID over write error • Retry expiry error, Frame error
SDIO UHS Verification IP comes with complete testsuite to test every feature of SDIO UHS specification.
Monitors, detects and notifies the test bench of significant events such as transactions, warnings, timing and protocol violations.
Supports lock-unlock and erase operation card features.
Supports point-to-point and Ring connection.
Supports RCLK frequency: 26~56MHz.
Supports higher bus speed of UHS II(UHS III).
Supports high speed interface up to 312MB/s for Version 1.02, and up to 624MB/s for Version 2.00.
Deliverables
Complete regression suite containing all the SDIO UHS-II testcases.
Examples showing how to connect various components, and usage of Host, Slave and Monitor.
Detailed documentation of all class, task and function's used in verification env.
Documentation contains User's Guide and Release notes