T2M › Verification IPs › V-by-One VIP
V-by-One VIP
Description and Features
The serial communication protocol known as V-By-One HS was created by Thine Electronics, Inc. to handle the greater frame rates and better resolutions needed by developing FPD technologies.V-By-One HS VIP can be used to verify transmitter or Receiver device following the V-By-One HS basic protocol as defined in V-By-One HS. The native support for V-By-One Verification IP in SystemVerilog, VMM, RVM, AVM, OVM, UVM, Verilog, SystemC, VERA, Specman E, and non-standard verification environments An optional Smart Visual Protocol Debugger, a GUI-based debugger to speed up debugging, is included with VBYONE Verification IP.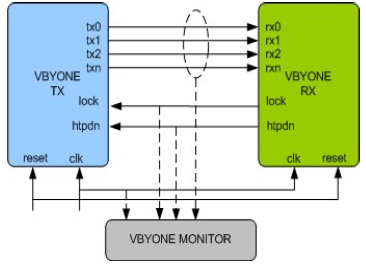 Features
Full MIPI DSI-2 Tx and Rx functionality.
Follows VByOne specification as v1.2/1.3/1.4/1.5
Support transmitter and Receiver Mode.
Supports upto 32 serial lanes.
Supports all byte lengths, color depths, and resolutions.
Supports lane skew insertion in transmitter mode.
Supports disparity and invalid code insertion in 8b/10b.
Supports 10 bit, 20 bit, 40 bit parallel interface.
Supports insertion of scrambler errors.
Supports scrambler as in V-By-One HS specification.
Supports on the fly generation of data.
Supports skip ALN training patterns.
Detects and reports the following errors, • Invalid control character injection • Invalid data character injection • Invalid 10bit code injection • Sync errors • Scrambler errors • Disparity errors • Alignment errors
VIP can be connected to DUT at following interfaces - Serial interface : txn, txp
Functional coverage to cover each and every feature of the VByOne specification
Test suite to test each and every feature of VByOne specification.
Status counters for various events on bus.
Supports constraints Randomization.
Callbacks in Transmitter and Receiver for various events.
Deliverables
Complete regression suite containing all the V-By- One HS testcases.
Examples showing how to connect various components, and usage of Transmitter, Receiver and Monitor.
Detailed documentation of all class, task and function's used in verification env.
Documentation contains User's Guide and Release notes.