T2M › Verification IPs › USB 4.0 VIP
USB 4.0 VIP
Description and Features
A SoC or ASIC's USB 4.0 component may be verified ingeniously with the help of the USB 4.0 Verification IP. The USB 4.0 Verification IP complies exactly with USB Specification 4.0 requirements. The USB 4.0 VIP is easily adaptable and may be modified for a variety of particular system applications. SystemVerilog, VMM, RVM, AVM, OVM, UVM, Verilog, SystemC, VERA, Specman E, and non-standard verification environments all natively support USB 4.0 Verification IP. The Smart Visual Protocol Debugger (Smart ViPDebug), a GUI-based debugger that speeds up debugging, is an optional component of the USB 4.0 Verification IP.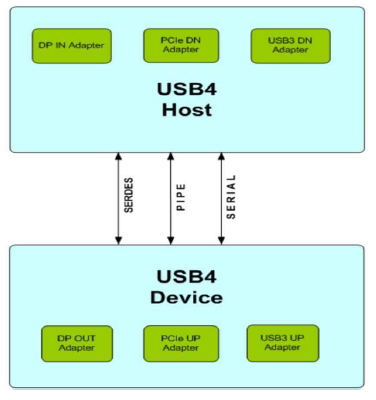 Features
Compliant with USB4.0 Specification
Supports USB4.0 Gen2 and Gen3 Operation
Supports constrained randomization of protocol attributes
Supports all types of error injection and detection
Supports error injection in all the layers of USB 4.0
Supports Dual Lane
Supports Lane margining and Lane de-skew buffer
Supports Side band channels
Supports SERIAL, PIPE and SERDES Interface
Configurable PIPE Interface width 8, 16 or 32 bits
Configurable SERDES Interface width 32, 40, 64 and 80 bits
Supports Enumeration process to enumerate hub/device
Supports 64/66B Encoding and Decoding for Gen2
Supports 128/132B Encoding and Decoding for Gen3
Supports Scrambler and Descrambler
Supports RS-Forward Error Correction (FEC)
Supports Clock compensation
Supports Spread spectrum clocking
Supports jitter
Supports Side band register space
Supports Configuration register space
Supports Lane adapter, Protocol adapter and Control adapter operations
Supports Lane initialization process
Supports Low power state
Supports Lane bonding mechanism
Supports Error detection and Recovery mechanism
Supports USB4 Link Equalization TxFFE handshake.
Supports all the Side Band Channel transactions
Supports Sleep and Wake mechanism with respect to the tunneled protocols
Supports Hot plug detection and Disconnect detection
Supports SKIP Insertion and Removal
Supports Time Sync Notification Ordered Set (TSNOS)
Supports following Protocol tunneling, • USB3 tunneling • Display port tunneling • PCIE tunneling
Supports all the Transport layer packets
Supports HEC, ECC and CRC
Supports Path Setup & Path Tear-Down mechanism
Supports all the Control packets
Supports all the Notification events
Supports Time Synchronization
Deliverables
Complete regression suite containing all the USB 4.0 testcases.
Examples showing how to connect various components, and usage of BFM and Monitor.
Detailed documentation of all class, task and function's used in verification env.
Documentation also contains User's Guide and Release notes.