T2M › USB › USB 3.1 Type-C PHY IP in 55ULP
USB 3.1 Type-C PHY IP in 55ULP
Description and Features
USB3.1Type-C PHY IP is a high performance high speed SERDES IP designed for chips that perform high bandwidth data communication while operating at low power consumption. USB 3.1Type-C PHY IP is a dedicate design for USB3.1 type-C application. USB 3.1 Type C PHY IP is a pure analog IP that perform serialization and deserialization only, a dedicate PCS can be provided together with PHY to accomplish functions of different application, including elastic buffer, scramble/de-scramble, data encoding/decoding, PRBS generation/checking, registers control and testing. PCS is provided as either hard or soft macro based on customer's request, the specification of PCS will also be provided separately PHY functionality is verified in NC-Verilog simulation software using test bench written in Verilog HDL.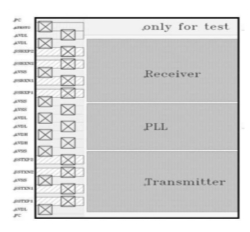 Features
Support half rate mode (5Gbps) and full rate mode (10Gbps)
Tolerate max +/-7000ppm input frequency offset
32bit/40bit selectable parallel data bus
Programmable transmit amplitude
3 taps/2 taps selectable FFE
Receiver CTLE and One-tap perspective DFE
Build in self-test with PRBS7/31 pattern generation and checker for production test
Integrated on-die termination resistors
Support receiver detection
Support LFPS signal generation and detection
Support Spread Spectrum clock generation and receiving
Flexible reference clock frequency
Do not need any external component
ESD: HBM/MM/CDM/Latch Up2000V/200V/500V/100mA
Metal Layer:M1~M7+RDL
Core Voltage: 1.1V
IO Voltage: 3.3V
Silicon Proven in TSMC 55ULP.
Deliverables
GDSII & layer map
Place-Route views (.LEF)
Liberty library (.lib)
Verilog behavior model
Netlist & SDF timing
Layout guidelines, application notes
LVS/DRC verification reports