T2M › Verification IPs › HDMI 1.4/2.0/2.1 VIP
HDMI 1.4/2.0/2.1 VIP
Description and Features
Versions 1.4b, 2.0b, and 2.1 of the HDMI Specification are all fully supported by HDMI Verification IP.It comes with a comprehensive test suite that covers the majority of potential scenarios. It executes all conceivable protocol tests in a guided or highly randomized manner, adding the opportunity to generate the greatest number of situations to successfully check the DUT. SystemVerilog, VMM, RVM, AVM, OVM, UVM, Verilog, SystemC, VERA, Specman E, and non-standard verification environments all natively support HDMI 1.4/2.0/2.1 Verification IP. In order to speed up debugging, the HDMI 1.4/2.0/2.1 Verification IP includes an optional Smart Visual Protocol Debugger that is GUI based.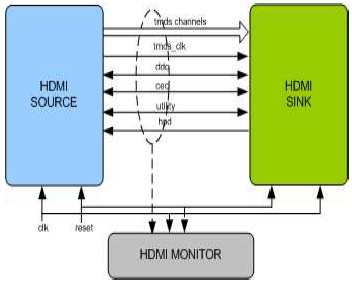 Features
Protocol Checker fully compliant with HDMI Specification 1.4b, 2.0b and 2.1 compliant.
Full HDMI source and sink device functionality
Supports TERC4 coding and Control period codings.
Supports three operating modes given below, • Video, control period,Data Island period
Supports Variable Refresh Rate (VRR) and Fast Vactive (FVA)
Supports Compressed Video Transport VESA DSC1.2a
Supports Fixed Rate Link (FRL) transmission withbelow features, • FRL Character Error Detection,FRL Content • Forward Error Correction (FEC) • 16b18b coding
Supports 3D, 4K x 2K , 5K x 2K , 8K x 4K , 10K x 4K Resolutions, Expanded Color Spaces
Supports Enhanced Audio Return Channel (eARC)
Supports all packet formats in HDMI Specification 1.4b, 2.0b and 2.1 compliant
Supports 340 Mcsc to 600 Mcsc TMDS Character Rate, FRL Lane link rates of 3 Gbps, 6 Gbps, 8 Gbps, 10 Gbps, and 12 Gbps.
Supports High-bandwidth Digital Content Protection System version1.4 and 2.2 (HDCP v2.2)
Supports High-bandwidth Digital Content Protection System version • Supports for HDCP2.2 with full authentication. • Supports High-bandwidth Digital Content Protection System version2.3 (HDCP v2.3)
Supports Consumer Electronics Control (CEC2.0)
Supports HDMI Ethernet and Audio Return Channel
Supports CEA-861-F/CTA-861-G standards
Supports Serial and Symbol interfaces
Detects and reports the following errors. • Invalid control, and data character • Invalid 10bit code, Sync errors, ECC errors • Invalid packing injection and detection
Supports HDMI Type B Connector Dual-Link Architecture.
Compatible with DVI 1.0(Digital visual interface) single-link and dual-link architecture.
Supports ID Communications Channel (IDCC) protocol that works over DDC and enables communication between a Source and a Cable.
Supports Sink Capabilities Data Structure (SCDS) feature and EDID Extensible Override DB (EEODB)
Supports Power for Cable Assemblies (PCA) feature in HDMI 2.1.
Deliverables
Complete regression suite containing all the HDMI testcases.
Examples showing how to connect various components, and usage of Transmitter, Receiver and Monitor.
Detailed documentation of all class, task and function's used in verification env.
Documentation contains User's Guide and Release notes.