T2M › DisplayPort › DisplayPort 1.4 Rx PHY IP in 40SP
DisplayPort 1.4 Rx PHY IP in 40SP
Description and Features
The Display Port 1.4 Rx IP Channel's maximum capacity is supported. Programmable analogue parameters including CDR Bandwidth, Equalizer Strength, Terminator Resistor, and BGR Voltage are available up to 5.4bps per channel (HBR2). Additionally, they offer alternatives for testability such the PLL alone test and the analogue signal monitor.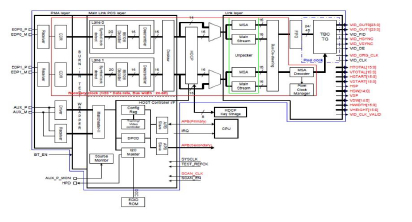 Features
DisplayPort version 1.4 compliant receiver

PHY supports 1.62Gbps (RBR) to 5.4Gbps (HBR2) bit rate

Integrated 100-ohm termination resistors with common-mode biasing

Integrated equalizer with tunable strength

eDP version 1.4a / DP version 1.3 compliant

receiver Supports HDCP1.4 and HDCP2.2(Optional)

Consists of configurable (4/2/1) link channels and one AUX channel

Supports 1.62Gbps (RBR), 5.4Gbps (HBR2) and 8.1 Gbps (HBR3) bit rate

Supports main link operation with 1 or 2 or 4 lanes Supports both Default and Enhanced Framing Mode Supports SST mode

Supports video packet and audio packet

Supports 18 / 24 bit RGB digital video output format Master I2C interface for DDC connection

Interface to external HDCP key storage

Configuration registers programmable via AMBA interface

Configurable analog characteristics

CDR bandwidth

Equalizer strength

Terminator resistance

BGR voltage

Regulator voltage

Support PLL test and internal analog signal monitor

1.8V/0.9V power supply

Silicon Proven in UMC 40nm SP.
Deliverables
Verilog RTL or netlist source code of LINK controller.

Abstracted timing models for synthesis and STA

Timing constrains for synthesis and physical layout

Behavioural Verilog Model, simulation test bench, run control scripts, and test stimuli

Physical design database

Integration guidelines

Reference software sample code