T2M › Verification IPs › I2C VIP
I2C VIP
Description and Features
I2C Verification IP provides a smart way to verify the I2C bi-directional two-wire bus. The I2C Verification IP is fully compliant with version 2.1, 3.0 and 6.0 of the Philip's I2C-Bus Specification and provides the following features. It is supported natively in SystemVerilog, VMM, RVM, AVM, OVM, UVM, Verilog, SystemC, VERA, Specman E and non-standard verification env I2C Verification IP comes with optional Smart Visual Protocol Debugger which is GUI based debugger to speed up debugging.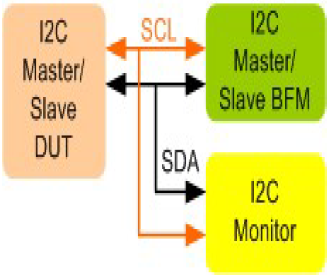 Features
Supports 6.0 I2C specifications.
Full I2C Master and Slave functionality.
Start, repeat start and stop for all possible transfers.
Supports all I2C clocking speeds including HS mode, Fast mode, Fast mode plus and Ultra-fast mode.
7b/10b configurable Slave address.
Allows testing of various bus traffics for Read, Write, General Call and CBUS.
Supports complex sequence of 7/10 bit with repeated start command sequences.
Supports Bus-accurate timing.
Supports START byte generation and handling.
Supports Master/Slave arbitration and clock synchronization.
Supports Glitch insertion and detection.
Supports insertion of wait states by Slave and Master.
Supports AT24C1024 EEPROM memory model which supports 256 bytes Page Write Mode.
Supports Random and Sequential Read Modes.
Supports insertion of errors • Master aborting in middle of transaction. • Master doing ACK on last read access. • Master continues on NACK after write NACK from Slave. • Random and Periodic clock period stretching by Slave. • Random Write NACK insertion by Slave.
Glitch insertion on clock and data at various windows.
Notifies the testbench of significant events such as transactions, warnings, timing and protocol violations.
Callbacks in Master and Slave for various events.
Status counters for various events in bus.
Functional coverage for complete I2C specifications.
I2C Verification IP comes with complete testsuite to test every feature of I2C specification.
Deliverables
Complete regression suite containing all the I2C testcases to certify I2C Master/Slave device.
Examples showing how to connect various components, and usage of Master, Slave and Monitor.
Detailed documentation of all class, task and function's used in verification env.
Documentation also contains User's Guide and Release notes