T2M › Broadcast › DVB-S2/S Demodulator & Decoder IP
DVB-S2/S Demodulator & Decoder IP
Description and Features
The DVB S2-S Demodulator IP core is silicon proven IP and extracted from Prodction chips and a Tuner Rx gain control is provided through PDM Demodulator is a high performance (A)PSK output RxAGC. Further stages of gain control are demodulator core intended for DVB-S2 and DVB-S implemented digitally within the demodulator. forward link applications. The demodulator is compatible with the ACM, VCM and CCM configurations of the DVB-S2 Standard including DVB-S extensions and is therefore suitable for the reception of DVB broadcast, DSNG, professional and broadband interactive services.
DVB-S and S2 demodulation: Compliant with ETSI EN300421 and EN302307 Symbol rates from 1 to 45 Ms/s Enhanced FEC for DVB-S and DirecTV legacy transmissions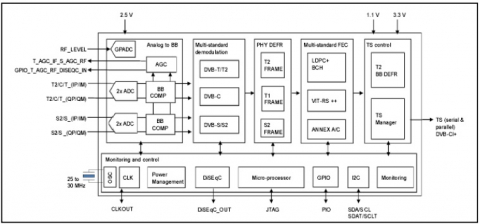 Features
Compatible with all ACM (Adaptive Coding and Modulation), VCM (Variable Coding and Modulation) and CCM (Constant Coding and Modulation) configurations of ETSI EN 302 307-1 and ETSI EN 302 307-2.
Frame-by-frame selection of frame size, FEC code rate and modulation format (QPSK, 8PSK, 16APSK and 32APSK).
Support for DVB-S2 extensions (S2X) FEC code-rates and modulation formats (64APSK, 128APSK and 256APSK)
Support for an arbitrary range of symbol rates up to 40% of the master clock frequency
Two-stage, stepped carrier search provides wide acquisition range
Integrated, high-performance pi/2-BPSK demodulator and Reed Muller FEC decoder for Frame Header processing (PLSCODE).
Baseband I/Q radio interface incorporating compensation for DC offset and quadrature imbalances
Pilot-assisted carrier tracking ensures robust performance in the presence of high levels of phase noise.
PL sync acquisition and maintenance at – 2dB SNR (Es/N0)
Digital decimation and channel filters reject up to +10dBc of adjacent channel interference.
Fully-digital carrier and clock recovery circuits eliminate the need for an external VCXO.
Compatible with leading LDPC FEC decoder solutions.
Supplied as a protected bitstream or netlist (Megacore® for Altera® FPGA targets).
Benefits
Silicon Proven IP Core
Extracted from Production Chips
Multiple applications
Modification rights, unlimited usage
Applications
STB SOC
TV SOC
PCTV Dongle etc