T2M › PCI Express › PCIe 4.0 Controller IP
PCIe 4.0 Controller IP
Description and Features
PCIe Gen4 Controller is a configurable and scalable for ASIC and FPGA implementation. The Controller P is compliant with the PCI Express 4.0, and 3.1/3.0 specifications, as well as with the PHY Interface for PCI Express (PIPE) specification and the AMBA® AXI™ Protocol Specification. The IP can be configured to support endpoint, root port, and dual-mode topologies, allowing for a variety of use models, and exposes a configurable, flexible AMBA AXI interconnect interface to the user.
The PCIE Controller IP is delivered in Verilog RTL that can be implemented in an ASIC or FPGA. The PCIE Controller IP is validated in using FPGA. The core includes RTL code, test scripts and a test environment for complete simulation.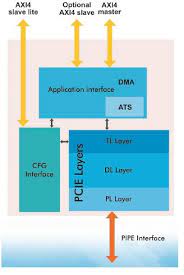 Features
Compliant with PCI Express 4.0 (32GT/s)
3.1(16 GT/s), 3.0(8 GT/s), (16 GT/s), & backward compatible.
Compliant with Pipe s.x
Supports both PIPE SERDES and non Serdes architecture
EPI RCI DMI Switch configurations support architecture
Compliant with ATS Specification
Compliant with AMBA INTERFACES Latest versions
512b Controller architecture and 64B PIPE interface for very high performance
Compliant with SR -Iov Specifications.
Supports X 16, X8, X4, X2, I Lanes
Highly configurable, robust DMA Highly architecture
Flexible user interface & AXI4/Native Interfaces
LTR, AER, OBFF, MSI, MSI LTR, AER, OBFF, ERC, and Cross link all features supported
Required features can be turned on and off at core generation Phase for an optimized gate controller
Simple Clocking architecture 32 Physical and 512 virtual functions supported
Optional lnbuilt address translator Configurable
FPGA validation @ Gen4 speed and loopback mode •
@Gen4 speed • PCI SIG compliance test
Benefits
Fully compliant, silicon-proven core
Comes with Verilog test bench and option to buy full advanced System Verilog Test bench
Support directly from engineer who designed the code.
Based on RMM (Re Use Methodology Manual guidelines)
Supports all the Synthesis tools.
Applications
PC
Digital TV
Set-top boxes
Enterprise computing, storage area networks, networking switches, and routers
Wireless and mobile devices
Industrial, automotive, and IoT
Embedded systems
Graphics devices
Laptops
Workstations
Servers
Deliverables
RTL design in verilog
Technical documentation in greater detail
Easy to use Verilog Test Environment with Verilog Test cases.
Digital Digital Digital lP controller with UVM VIP counterpart and relatable testbench components and all documentations
Hardware validation platforms with full compliance testing support and error scenario support
Bit file for digital IP controllers for any type of platforms