T2M › Verification IPs › USB PD VIP
USB PD VIP
Description and Features
USB Power Delivery verification is made possible by USB Power Delivery Verification IP. The standard USB Power Delivery Specification is completely adhered to by the USB Power Delivery Verification IP. With regards to configuring USB Power Delivery capability, USB Power Delivery VIP offers a wide range of configuration options. A thorough test suite for the majority of potential scenarios is included with the USB POWER DELIVERY VIP. It is capable of identifying and introducing different kinds of mistake, and it executes all conceivable protocol tests in a guided or highly randomized manner, adding the potential to generate the greatest number of situations to successfully validate the DUT. The full protocol violation is fully detected in this manner. The SystemVerilog, VMM, and USB PD Verification IP are natively supported.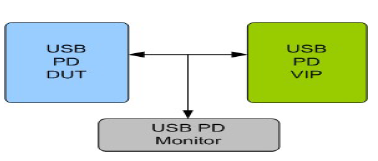 Features
VIP Features
Built in functional coverage analysis
Testsuite to test each and every feature of specification
Notifies the test bench of significant events such as transactions, warnings, and protocol violations
USB POWER DELIVERY Verification IP comes with complete test suite to verify each and every feature of USB POWER DELIVERY and TYPE-C specification
FIFO depth programmable
Auto response generation
Build in protocol checks
Supports TYPE-C, TYPE-B and TYPE-A interface
USB PD Features
Supports USB Power Delivery Specification 3.1,3.0,2.0 and 1.0
Supports Cable plug communication
Supports all Resets: • Hard, Soft and Cable Resets
Supports all types of packets.
Supports BFSK and BMC signaling of physical layer
Support BIST.
Supports Timers as per specification
Supports Counters as per specification
Supports data role swap and power role swap
Supports Structured and Unstructured VDM • Error Injection • CRC error
Message type errors
Supports Device and System Policy
Supports injecting timing variations in physical layer
Supports all Swappings: Power role, Data role, Fast power role and Vconn swap
Supports chunked transaction
Supports included extended power supply capabilities and status.
Deliverables
Complete regression suite containing all the USB Power Delivery testcases.
Example's showing how to connect various components, and usage of BFM and Monitor.
Detailed documentation of all class, task and function's used in verification env.
Documentation also contains User's Guide and Release notes.