T2M › Verification IPs › I2S VIP
I2S VIP
Description and Features
I2S Verification IP provides an smart way to verify the I2S bi-directional two-wire bus. The I2S Verification IP is fully compliant with version Philip's I2S-Bus Specification June 5, 1996 and provides the following features. I2S Verification IP is supported natively in SystemVerilog, VMM, RVM, AVM, OVM, UVM, Verilog, SystemC, VERA, Specman E and non-standard verification env I2S Verification IP comes with optional Smart Visual Protocol Debugger which is GUI based debugger to speed up debugging.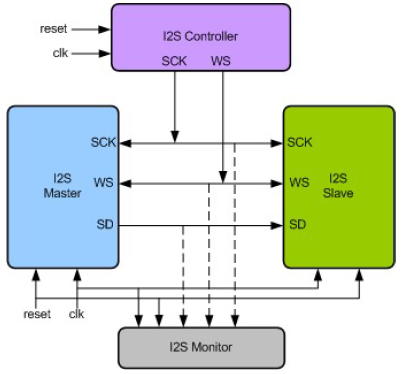 Features
Complies with Philips I2S Specification June 5, 1996
Full I2S Transmitter, Receiver and Controller functionality
Supports up to 32 channels in transmit path
Supports up to 32 channels in receive path
Supports programmable word length 8, 12, 16, 20, 24, 32
Supports programmable padding
Supports programmable bit reversal
Supports left and right justified
Both transmitter and receiver can either work with SCK as input or can drive SCK
Supports programmable data rate on transmit path • Can operate as master or slave in several configurations • Master or slave mode as transmitter • Master or slave mode as receiver • Master mode as controller (does not transmit or receive data) • Notifies the testbench of significant events such as transactions, warnings, timing and protocol violations.
Status counters for various events on bus.
Callbacks in transmitter, receiver and monitor for various events.
Supports constraints Randomization.
Built in functional coverage analysis.
I2S Verification IP comes with complete test suite to test every feature of I2S specification.
Deliverables
Complete regression suite containing all the I2S testcases.
Examples showing how to connect various components, and usage of Master, Slave and Monitor.
Detailed documentation of all class, task and function's used in verification env.
Documentation also contains User's Guide and Release notes