T2M › MIPI › MIPI RFFE SPI Slave Controller IP
MIPI RFFE SPI Slave Controller IP
Description and Features
MIPI RFFE SPI Slave interface provides full support for the two-wire MIPI RFFE synchronous serial interface with SPI overlay, compatible with RFFE 2.1 and SPI Block Guide V04.01 specification. Through its RFFE compatibility, it provides a simple interface to a wide range of low-cost devices. MIPI RFFE SPI Slave IP is proven in multiple ASIC. The host interface of the MIPI RFFE/SPI can be simple interface or can be AMBA AHB, AMBA AHB-Lite, AMBA APB, AMBA AXI, AMBA AXI-Lite, Tilelink, OCP, VCI, Avalon, PLB, Wishbone or custom protocol.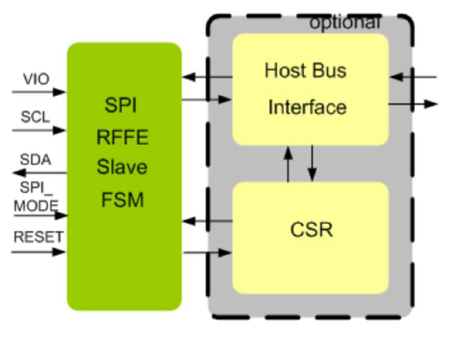 Features
Compliant with 3.0 MIPI RFFE Specification and SPI
Block Guide V04.01 Specification
Full MIPI RFFE Slave functionality.
Supports following frames • Command Frame • Data/Address Frame • No Response Frame
Supports extended register read/writes
Supports interrupt summary and identification command sequence
Support Trigger and Extended trigger modes
Support Masked write command sequence
Supports Timed Trigger
Supports Mappable Triggers
Support Synchronous read
Support Normal and Secondary operation mode
Support USID Programming Procedure 1,2 and 3
Support Group slave ID
Supports device enumeration
Supports Half-Speed Data Response (HSDR) Accesses
Supports Full Command Sequence at Half-Speed SCLK
Supports Delayed Read-back
Supports Reserved Register Allocations in Basic Address Space (0x1C – 0x1F)
Supports Reserved Register Allocations in Extended Address Space (0x20 – 0x3F)
Supports Write Slave State via PWR_MODE bits
Supports Read Slave State via PWR_MODE bits
Supports Read PRODUCT_ID, MANUFACTURER_ID and USID from reserved registers.
Support Interrupt capable slave
Supports Extended Frequency Range up to 52 MHz
Supports the following Error detections • Undefined command frame • Command frame with parity error • Command frame length error • Address frame with parity error • Data frame with parity error
Read and Writ of unused register
Read using the broadcast ID or a GSID
Full SPI Slave functionality
Supports following frames for SPI • Sleep Frame • Wakeup Frame • Write Frame • Read Frame
Supports 8 bit and 16 bit address for SPI.
Deliverables
The MIPI RFFE SPI Slave interface is available in Source and netlist products.
The Source product is delivered in plain text Verilog. If needed VHDL, SystemC code can also be provided.
Easy to use Verilog Test Environment with Verilog Testcases
Lint, CDC, Synthesis, Simulation Scripts with waiver files
IP-XACT RDL generated address map
Firmware code and Linux driver package
Documentation contains User's Guide and Release notes.

Request Datasheet