T2M › USB › USB 2.0 Audio Class Device Controller IP
USB 2.0 Audio Class Device Controller IP
Description and Features
The USB 2.0 Audio Design platform is a complete ,integrated solution designed to be used in USB based Audio Devices such as speaker and microphones. This includes USB2 peripheral controller designed to support 12 Mb/S full speed and 480 Mb/S high speed serial data transmission rates. DP8051XP ultra high performance ,speed optimized fully customizable 8051 8 bit microcontroller with built in debug IP core. Audio device stack optimized software for DP8051XP 8bit CPU. FPGA board with ready to use , pre programmed example USB stereo speakers applications. Supports UTMI Transceiver Macro cell interface.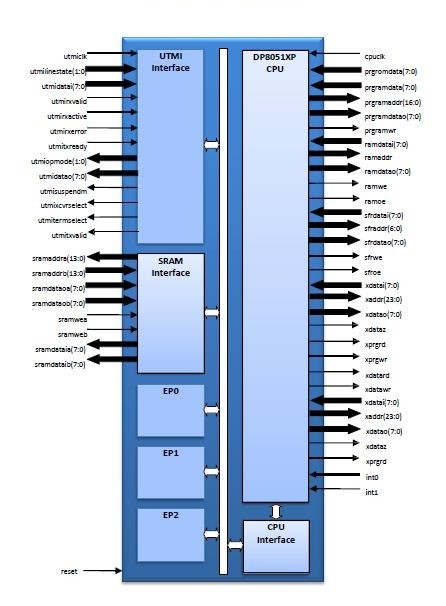 Features
Full compliance with the USB 2.0 specifications
Full speed 12 Mbps operation
High speed 480 Mbps operation
Suspend and resume power management functions
100% software compatible with 8051 industry standard
Upto 256 bytes of internal data memory
Up to 64k bytes of internal or external program Memory
User programmable program memory wait states solution for wide range of memories speed
User programmable External data memory wait state solution for wide range of memories speed
Fully synthesizable, static synchronous design with positive edge clocking and no internal tri states
Scan test ready
Benefits
Can be dynamically configured to support configurable number of endpoints, alternate interfaces, and configurations.
Has full support for all low power features of the USB Specification supporting Suspend and Remote Wakeup, USB 3.1 Low Power States – U1/U2/U3 and USB 2.0 Link Power Management states – L1, L2.
Has multiple power domain support as specified in the Audio 2.0 Specification.
Applications
Smart YV
Mobile
Consumer
Automotive
Deliverables
Verilog RTL Source Code
Verification Environments
Test benches
Test cases
Synthesis Environments
Scripts
Constraints
Clock Domain Crossing Environments
Scripts
Constraints
Waivers
Lint Environments
Scripts
Waivers
Design Data book
Verification Documents – Test Environment Specification, Acceptance Test Specification
Synthesis Guide