T2M › USB › USB 3.0/ PCIe 2.0 Combo PHY IP in 28HPC+
USB 3.0/ PCIe 2.0 Combo PHY IP in 28HPC+
Description and Features
The Combo PHY is a complete USB 3.0 and PCIe 2.0 PHY IP solution designed for a mobile and data consumer applications in TSMC 28nm process. It supports both USB3.0 (1 or 2 ports) and PCIe 2.0 (1 lane). It consists of Physical Coding Sublayer and Physical Media Attachment and includes all circuitry for interface operation with 8/10 encoding/decoding, driver, input buffers, PLL and impedance matching circuitry. The PHY provides standard PIPE interface with the Media Access Layer for exchanging information. Lower power consumption is achieved due to support of additional PLL control, reference clock control, and embedded power gating control. Also, since aforementioned low power mode setting is configurable, the PHY is widely applicable for various scenarios under different consideration of power consumption.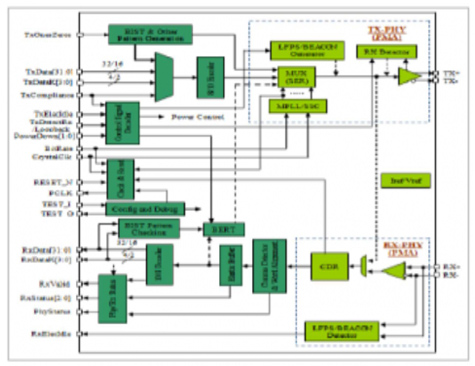 Features
Standard PHY interface (PIPE) enables multiple IP sources for PCIe/USB3 MAC layer

Supports 2.5GT/s and 5.0GT/s serial data transmission rate

Supports 16-bit or 32-bit parallel interface

Data and clock recovery from serial stream

8b/10b encoder/decoder and error indication

Support direct disparity control for use in transmitting compliance pattern in Pole mode

Support power change and rate change at a same PCLK edge in PCIe mode

Tunable Receiver detection to detect worse case cables

Beacon transmission and reception in Pole mode

Low Frequency Periodic Signaling (LFPS) transmission and reception in USB 3.0 mode

Support SSCG function to reduce EMI effects with tunable down spread amplitude

Selectable TX margining, Tx de-emphasis and signal swing values

Internal Loopback Test Capable

Allowable analog circuit parameter adjustment and internal test control

Compliant with USB3/PCIe base specification

Silicon Proven in TSMC 28HPC+.
Deliverables
GDSII & layer map

Place-Route views (.LEF)

Liberty library (.lib)

Verilog behavior model

Netlist & SDF timing

Layout guidelines, application notes

LVS/DRC verification reports