T2M › Bluetooth › BLE v5.0 RF KGD & IP
BLE v5.0 RF KGD & IP
Description and Features
A complete RF Transceiver (IP/die) for adding Bluetooth Low Energy v5.2 (2.4GHz) capability to any SoC with embedded MCU via a standard SPI interface.
Integrated BLE Link Layer enables data rates of 2Mbps for High Speed Bluetooth connectivity & Long Range for connection range of ~100 meters.
Standard SPI interface plus chip select & packet sync pins for interfacing to an MCU or SOC and accessing an integrated AES engine for data encryption/decryption. No external RAM, ROM or Flash is not required.
Low cost & simple upgrade to any embedded MCU system.
Availability
Packaged RF Chip

Known Good Die (KGD): Stack with Microcontroller in SIP

RF IP: GDSII, Technology Transfer

Production Transfer

Turnkey ASIC: based on core Bluetooth IP, Derivatives of Bluetooth IP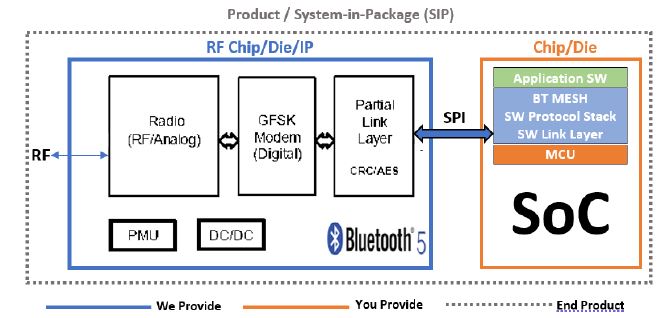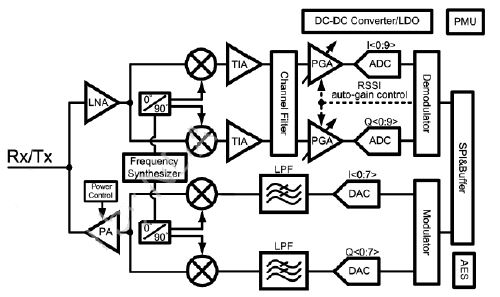 Features
2.4GHz RF Bluetooth Low Energy v5.2 Phy
BQB Bluetooth® 5 Low Energy Certified: RF PHY Component, Link Layer, Protocol Stack SW, MESH SW
Data Rate Supported: 2Mbps & 1Mbps
Integrated functionality: RF Transceiver + Modem Phy, CRC & AES-CCM HW security engine, Integrated DC-DC and LDO regulator, 16MHz / 32MHz XTAL, 32KHz XTAL
High TX Power: +10dBm
High RX sensitivity: -97dBm (1Mb/s PHY BER=0.1%)
Very Low Power Consumption: Standby & Deep Sleep functions
TSMC 55nm ULP