T2M › Bluetooth › BT Dual Mode v5.0 Software Stack & Profiles IP
BT Dual Mode v5.0 Software Stack & Profiles IP
Description and Features
Bluetooth Dualmode Software IP includes versions v5.0,and below, of Bluetooth Smart & Bluetooth Smart Ready Stack & Profiles. EtherMind is a comprehensive offering which consists of all the mandatory and optional features of the core stack and all the adopted profiles.
This IP has been integrated into multiple products and is designed to suit the needs of product OEMs, ODMs and Semiconductor companies.
EtherMind enables customer to reduce market risk of integrating Bluetooth in the product while accelerating the development cycle. The large base of customers is testimony of the IP's high quality, proven reliability, functionality and portability as per the adopted Bluetooth specifications.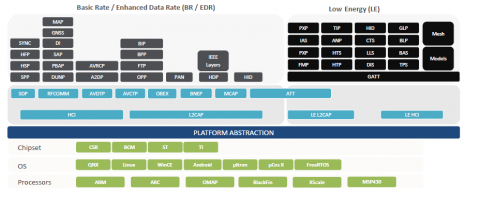 Features
Bluetooth SIG Qualified, Production Proven IP
Proven Interoperability
Low MIPS and Memory Footprint for Stack & Profiles
Platform and Operating Systems (OS) agnostic and is designed for Easy Portability
Proven on all popular 32 bit and 16 bit MCUs and a variety of OS
Non-Blocking Architecture
Compile time options for Feature Configuration
GATT Caching
Periodic AdvSync transfer/ Control length extension
Advertising Channel Index Changes
Minor Functional Enhancements #1
Deliverables
Source Code of Transport Abstraction Layer and Operating System Abstraction Layer
Source Code of sample applications to illustrate the use of APIs
API Documents for Smart Mesh Profile and Encryption blocks
API Documents for the Transport Abstraction Layer
API Documents for the Operating System Abstraction Layer
User manual describing how to build and run the sample application
Benefits
BT SIG has licensed our stack for integration into the PTS -Test tool. This ensures that every product will need to prove interoperability against the Mindtree stack for the purpose of qualification
Tested for interoperability with more than 200 smart phone models
Proven in all UnPlugFests
Modules are compile-time configurable
Same architecture and codebase across can be ported across Multiple devices
Demonstrates the flexibility of the architecture
Easy for testing Interoperability across range of devices
Applications
Audio Streaming
Boom Boxs
PNDs
Resource Constrained Headsets
Watches and Healthcare
IOT devices