T2M › DAC › 10b-640Mbps (802.11 AC AFE) DAC IP
10b-640Mbps (802.11 AC AFE) DAC IP
Description and Features
This is a high frequency dual channel current (source type) steering 10 bit Digital to Analog Converter (DAC). It can source the full scale output current 1.25mA.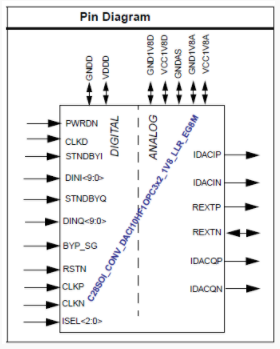 Features
10 bit parallel binary unsigned inputs.
Full scale current (IFS): 1.25mA at a single output.
Maximum sampling frequency (Fs): 640 MHz.
Signal to Noise and Distortion Ratio (SNDR) on nyquist band: 57dB @ Fs= 640 MHz.
Deliverables
Technical documents
Design Guide