T2M › Cellular › NB-IoT Rel-14 UE Protocol Stack SW IP
NB-IoT Rel-14 UE Protocol Stack SW IP
Description and Features
This NB-IoT Protocol Stack is 3GPP Release 14 compliant, Access Stratum and Non-Access Stratum (L2-L3 layers) which are further upgradable to future Releases. The NB-IoT software is highly configurable in terms of interval, packet size etc. The NB-IoT Protocol Stack SW IP has been tested in various hardware platforms including an internal proven host-test environment. To maximize the battery life, the NB-IoT SW has support for Power Saving Mode and Extended DRX.
The Protocol stack SW IP is designed to support Low memory and low power footprints enabling customers to integrate with their custom target platform. The IP has support forLW M2M over the Air Firmware / Software upgrade and Device management with well defined AT command and USIM interface.
This NB-IoT Protocol Stack is also targeted for the Release-17 for Non-Terrestrial Network (Satellite) development for the communication through the LEO and GEO satellites.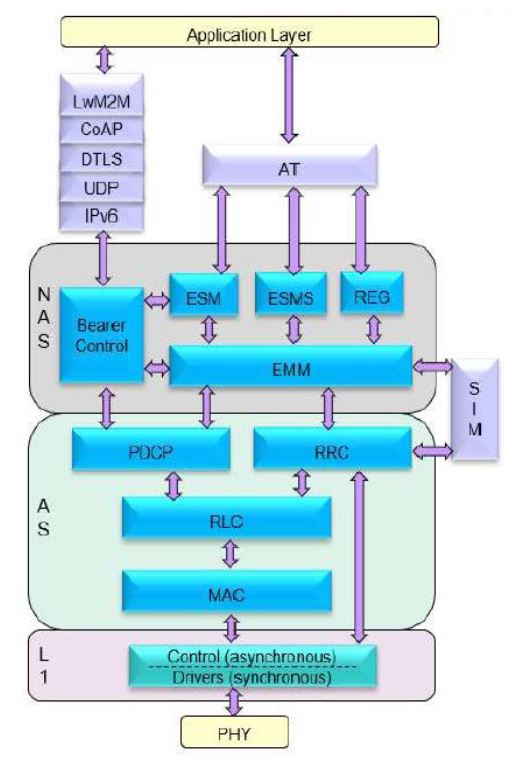 Features
Half-Duplex UE FDD support
SMS, IP, and non-IP-data (NAS)
Positioning through OTDOA, and E-CID
Multicast
Lower Power UE (14dBm)
Multi-Carrier Enhancement
RRC Connection Re-establishment for CP EPS optimisation
Release Assistance Indication
Increased Data Rate: Cat NB2
CIoT EPS Optimisation
Control-plane (Control IOT) optimisation
AS/NAS security (Snow3G, AES, and ZUC)
Support for Stand-alone, Guard-band and In-band modes