T2M › Bluetooth › BT Dual Mode v5.3 RF PHY IP in GF 22fdx
BT Dual Mode v5.3 RF PHY IP in GF 22fdx
Description and Features
This Ultra-Low-Power Dual-Mode Bluetooth RF transceiver IP is designed to support 2.4 GHz standards like Bluetooth Classic (BR/EDR), Bluetooth Low Energy, 802.15.4 PHY Layer (e.g. ZigBee), and proprietary standards. This Dual-Mode RF IP targets by far the lowest power consumption (<3mW) together with state-of-the-art performances (sensitivity, interferers rejection) and with minimal cost. Thanks to its built-in LDOs, its fully programmable modem and its interface compatible with leading BT baseband controllers, this Dual-Mode RF IP is optimized for easy integration into ASICs and SoCs.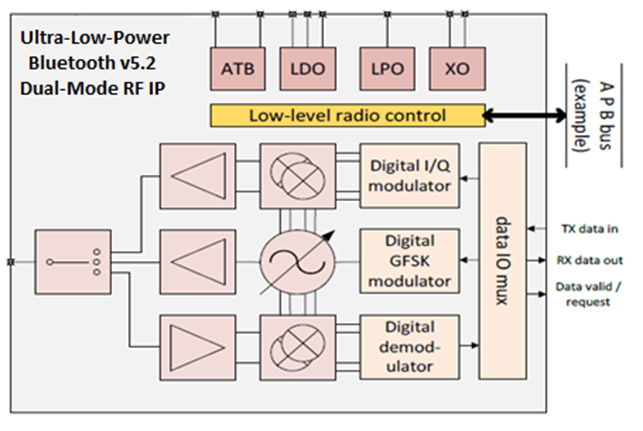 Features
Bluetooth v5.3 Dual-Mode RF IP for Universal BT Audio Streaming

Flexible modem compatible with Bluetooth, 802.15.4-2011 and other modulations

Supports 3rd party Link Layer & Protocol Stack SW

Low Power Modes of Operation:

0.6mW - BLE Only

1.6mW - Dual-Mode (BLE+EDR)

Best-in-class Rx Sensitivity: BLE -98 dBm

EDR -94 dBm

High Tx power: +10 dBm

Long Range and Direction Finding (DF) options.

Industrial temperature range: -40°C to +125°
Deliverables
GDSII
behavioural model for the analog/RF portion
RTL for the digital portion
Related test benches
Documentation
Benefits
This RF has the Lowest Power Consumption in the market.
Applications
Hearing Aids, earbuds & headsets
Wearables, connected sports equipment
Indoor positioning, asset tracking, beacons
Wireless sensor networks
Alarms and security systems