T2MIP, a leading provider of wireless communication technologies, is proud to announce the availability of LC3Plus, the next-generation audio codec designed to extend high audio quality to the entire communication ecosystem. With LC3Plus, it is now possible to enjoy high-resolution audio streaming on wireless accessories.
LC3 and LC3plus offer a flexible codec design, allowing for high-quality music streaming as well as voice services. LC3plus is the only open-standard audio codec for high-resolution wireless headsets and high-quality gaming headsets: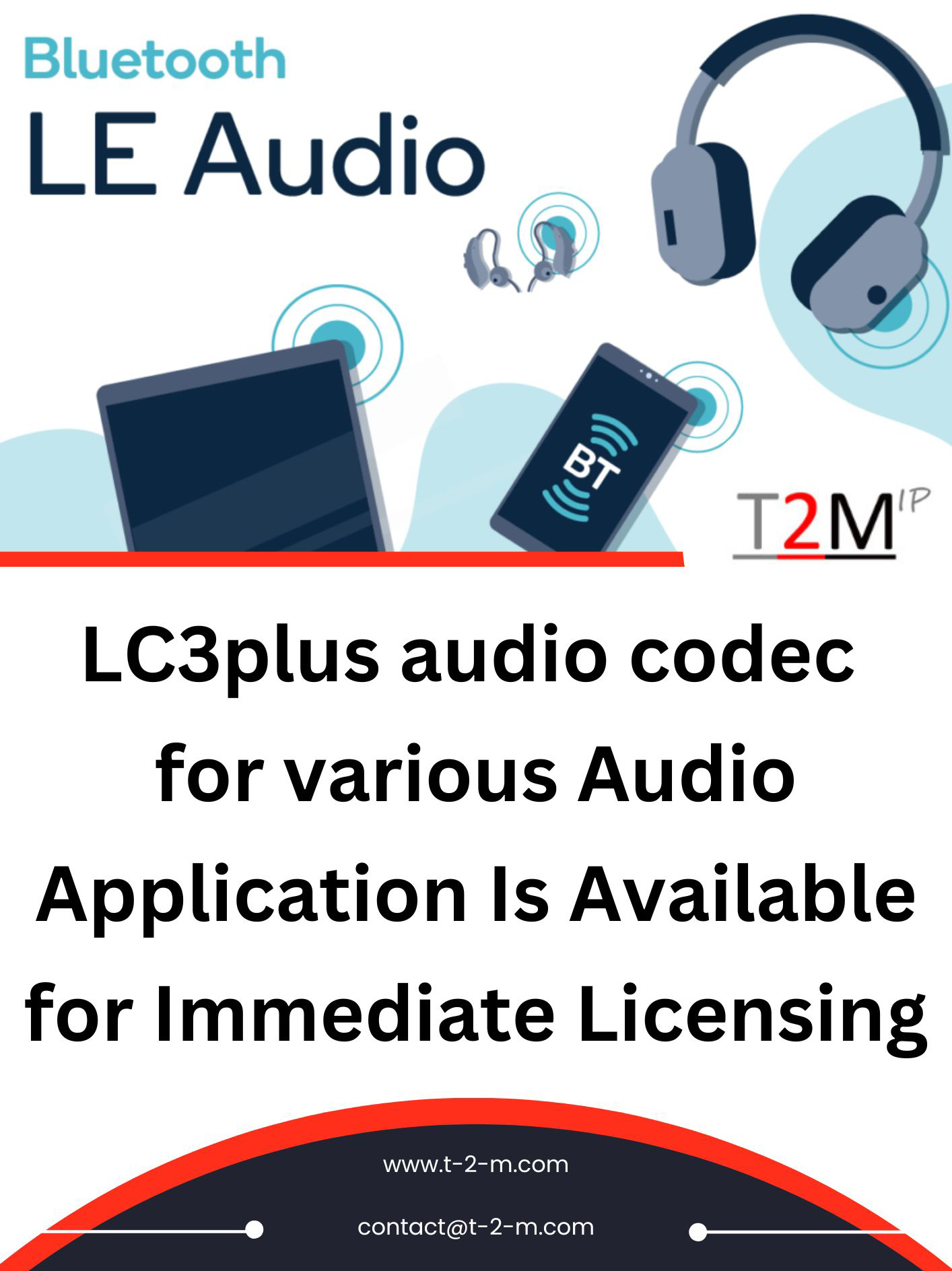 LC3plus also includes additional functionalities of LC3, including audio quality, high speech, and is loaded with various additional functionalities. It has transmission robustness, ultra-low delay use cases, and high-resolution audio transmission capabilities.
The dedicated high-resolution audio mode on the LC3plus provides a high-quality transmission link that performs well in terms of Signal-to-Noise Ratio (SNR), Total Harmonic Distortion and Noise which in terms makes it the ideal codec for delivering high-fidelity audio streaming to high-resolution wireless equipment.
The codec's complexity meets the needs of wireless communication platforms such as Bluetooth, DECT, and VoIP terminal equipment. LC3 and LC3plus allow low-energy services with longer battery life by decreasing the required bit rate by roughly 50% when compared to legacy codecs.
For further information on licensing options, deliverables, and pricing please drop a request..
T2M's broad Wireless IP cores also include Bluetooth Dual-mode v5.3 RF Transceiver IP Cores in 22ULL, BLE v5.3 / 15.4 (0.5mm2) RF Transceiver IP Cores in 40ULP & SMIC 55/40nm, IP Cores all can be ported to other nodes and foundries as per the customer requirements, as well as BLE v5.3 Controller Link Layer IP, BLE & BT DM SW Stack & Profiles, ZigBee 3 Protocol Stack SW
About T2M: T2MIP is the global independent semiconductor technology experts, supplying complex semiconductor IP Cores, Software, KGD and disruptive technologies enabling accelerated development of your Wearables, IOT, Communications, Storage, Servers, Networking, TV, STB and Satellite SoCs. For more information, please visit: www.t-2-m.com